We are thrilled to announce that Prieeyya has joined our team as Head of Learning Experience Design to help us grow Mia and unlock economic opportunities for women in emerging technologies.
Meet Prieeyya Kaur Kesh - a dynamic education futurist, an innovator in learning experience design, and now the Head of Learning Experience Design at Mission Impact Academy (Mia).
---
Prieeyya has effectively championed upskilling initiatives for over 1700 learners spanning across Canada. Her expertise lies in navigating the changing landscape of the future of work and she uses this knowledge to help close the skills gap through high-impact micro-credentials and employer-led education.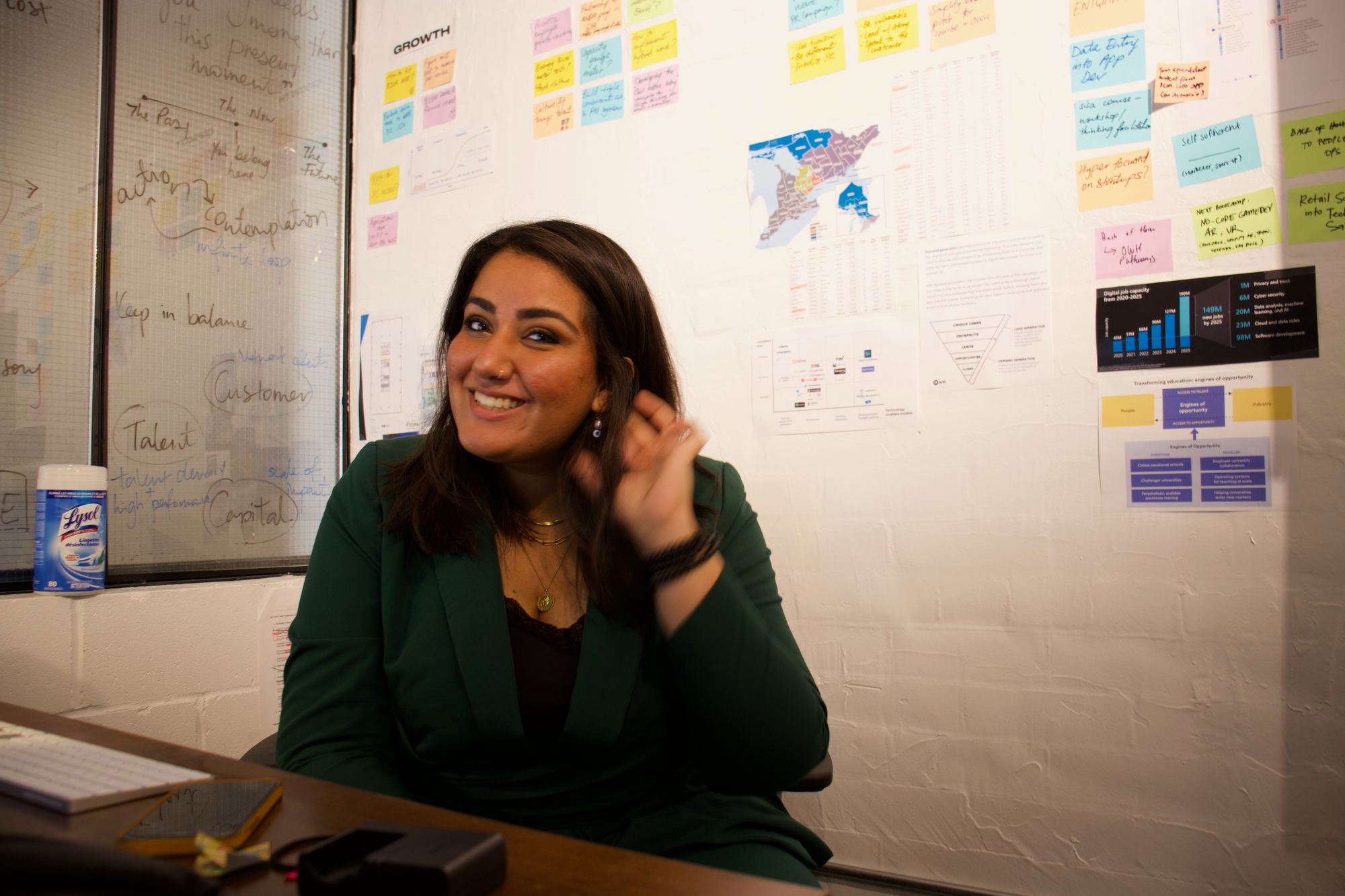 Prieeyya's contributions have been instrumental in shaping national education policy in Canada. She has worked with a diverse roster of clients that includes the Government of Ontario, the Royal Bank of Canada, the City of Brampton, and Apple Canada.
As the Founder and CEO of Our Wave Hub, she's been at the forefront of revolutionizing digital skills training for over 1,700 learners. Our Wave Hub, an esteemed Apple Professional Learning Provider, is a beacon of innovative learning for career transitioners and displaced workers exploring user experience (UX) design, no-code development, and digital marketing.
Prieeyya exemplifies a unique leadership style that places culture, motivation, and collaboration at the core of success. She has successfully created an atmosphere of guidance where praise and constructive feedback coexist, and where individual motivations are nurtured to avoid burnout, ultimately fostering an environment of collaborative result-oriented work.
A sought-after keynote speaker, Prieeyya frequently shares her insights on skills-based education, the future of work, and the use of emerging technology in talent development at prominent platforms including Harvard University, D2L's Toronto Skills Summit, and RBC Future Launch Summit.
Born to 3rd generation Punjabi-Malaysian parents, Prieeyya brings a culturally rich background, multilingual proficiency, and innate leadership honed through her upbringing in Malaysia. Her dynamic personal journey, marked by global music competitions and martial arts mastery, adds an enriching layer of resilience and diversity to her professional narrative.
---
At Mia, Prieeyya leverages her comprehensive experience and innovative mindset as the Head of Learning Experience Design.
She is responsible for creating transformative learning experiences that inspire, engage, and empower our learners. Prieeyya's role is pivotal in integrating the best of technology, design thinking, and teaching to equip our learners with future-ready skills, making learning not just effective but enjoyable and impactful.
---
We asked Prieeyya:
⚫ Why Mia?
Because it's a convergence of the two things I'm most interested about - exponential technology and how it will shape the future of work, as well as creating pathways for social and career mobility for women. I think Mia is uniquely positioned to bring AI education to demographics that are usually left out of these conversations and enable women to actively contribute and remain adaptable in this era of AI adoption.
⚫ What is your superpower?
I'd say it's my ability to see patterns and connections where most people won't. In part, I think it's a unique perspective and being able to channel a beginner's mindset to all the things that I contribute to.
⚫ One motto or career tip you would like to share with the world
To be bold. And to try - even if things don't work out the way you would've liked it to, the experience of putting yourself out there, trying and creating will leave you with plenty to build from and shape your career and life with. We're conditioned to not be bold, to conform and stay within the limits that is set by the way "things have always been done" and I'd challenge those looking for meaning, fulfillment and to contribute at a high level to do the exact opposite - be bold, think critically and hone in on what makes you, you.
---
We're thrilled to welcome Prieeyya to the Mia family. Her diverse experiences, unique perspective, and dedication to transformative learning make her an invaluable addition to our team.
We're excited for the amazing journeys we'll embark on together, and the profound impact we will make in the world of learning and emerging technologies. Welcome, Prieeyya!
---
• Connect with Prieeyya •
Instagram | LinkedIn | Twitter
---
Mia is a future-of-work platform created to unlock powerful economic opportunities for women globally through in-demand tech skills training, career development, inclusivity, and belonging.
Our mission is to unlock new economic opportunities for one million women and accelerate the impact of one billion people by 2030.