On April 5th, 2023, the Business Innovation & Technology (BIT) Center of Miami Dade College hosted an innovative event 'Empowering Women in Tech: The Importance of Support, Networking Event' focused on empowering women who are interested in learning more about emerging technologies such as Metaverse, VR/AR, AI, and Web3. The event, hosted by the Mia, Mission Impact Academy in partnership with VRARA South Florida, and Miami Dade College provided a platform for students to connect with local South Florida women leaders and learn about their journeys, insights, and opportunities for growth in the tech industry.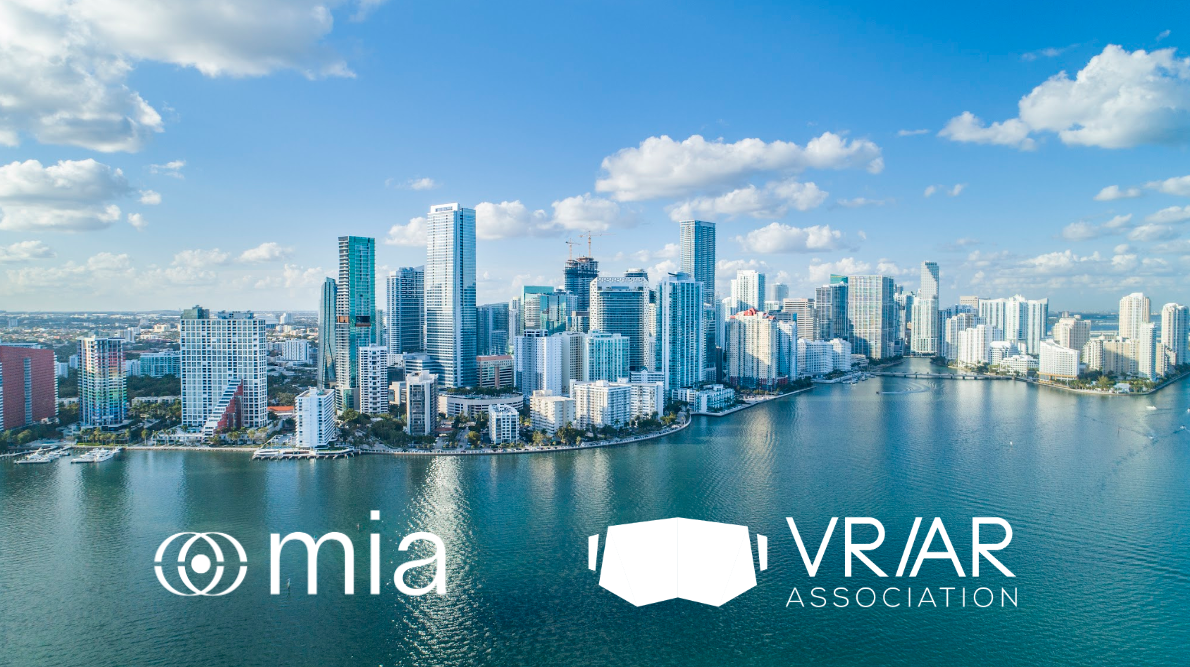 The event kicked off with a networking session, providing attendees with the opportunity to meet and connect with industry professionals, fellow students, and potential mentors. This was followed by presentations from keynote speakers, each of whom shared their experiences and knowledge of emerging technologies, leadership skills, and diversity in tech.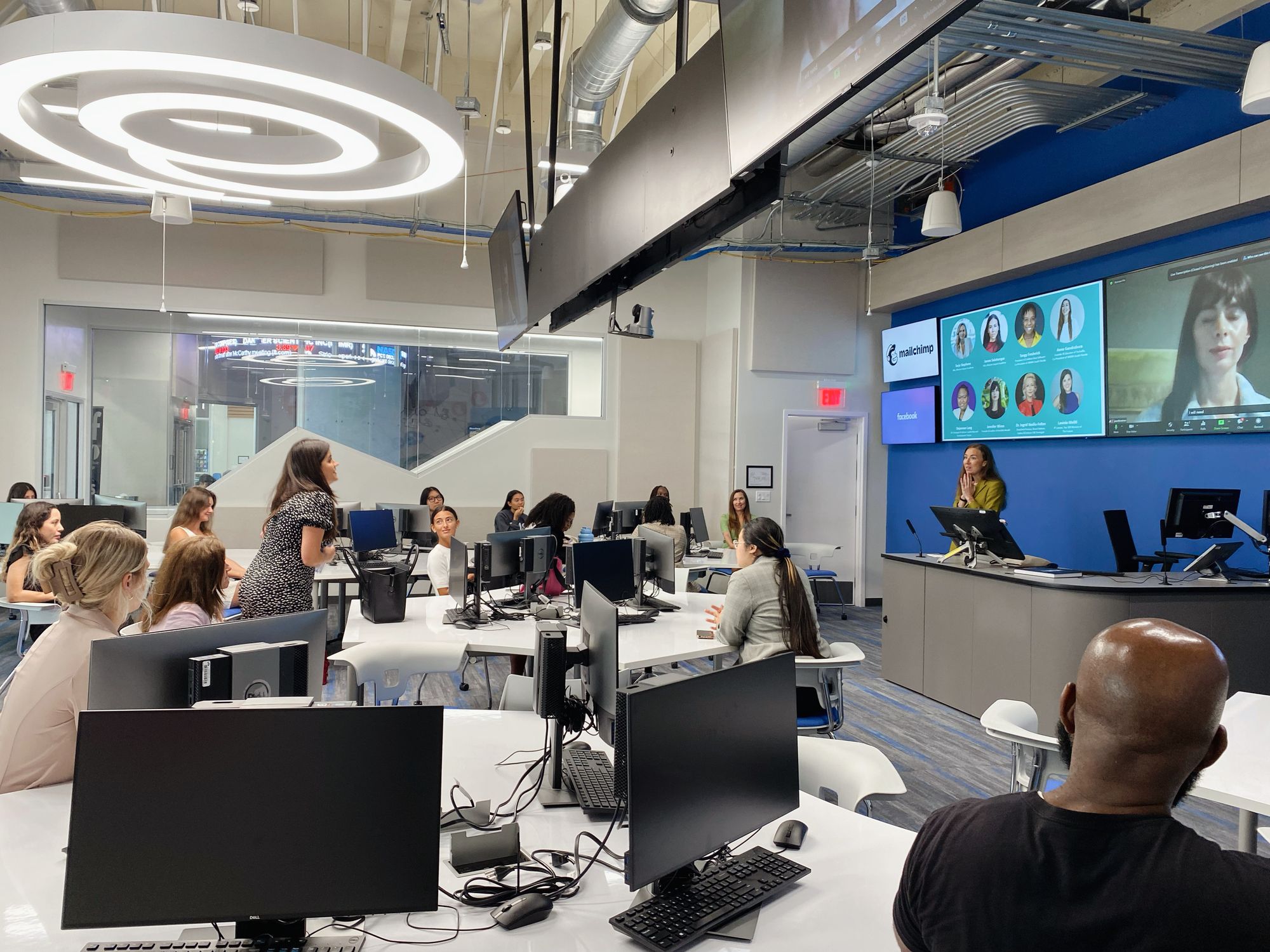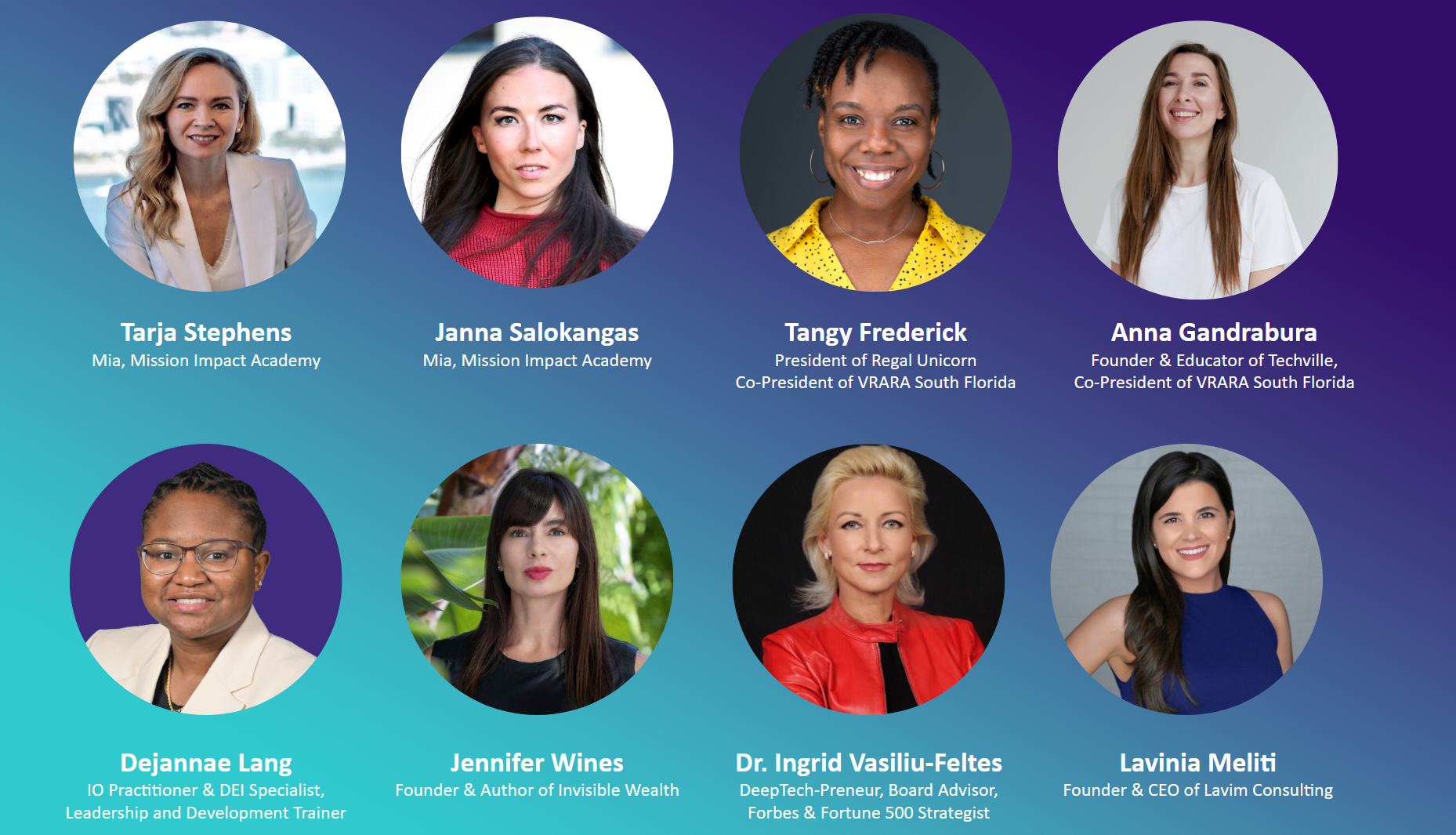 The event was hosted by Mia's co-founders Janna Salokangas and Tarja Stephens. Our keynote speakers Anna Gardabura, Founder & Educator of Techville, Tangy Frederick, President of Regal Unicorn, and both Co-presidents of VRARA South Florida, kicked off the presentations by discussing the impact of the metaverse, and its potential to change future careers and jobs. They also shared their inspiring journeys as founders and building companies in the emerging tech space.
Dr. Ingrid Vasiliu-Feltes, a Deep Tech Influencer in Web3.0, TV/Media, and Author, discussed the limitless opportunities emerging technologies offer.
Jennifer Wines, Founder and author of Invisible Wealth, shared her knowledge of how the landscape of work is changing, and how women can grow using their intuition, relationships, and network.
"It's inspiring to see the emerging workforce advance in lockstep with emerging tech." Jennifer Wines
Lavinia Meliti, a founder and CEO of Lavim Consulting, discussed entrepreneurship, starting a business and being advisor for many startups.
DeJannae Lang, IO Psychology Practitioner, and Diversity, Equity, and Inclusion Strategist, provided valuable insights into the importance of upskilling, building a portfolio of skills, and the power of networking.
Here are some of the great tips and insights Dejannae Lang shared with everyone:
Emerging technologies are creating new and exciting career opportunities in fields such as metaverse, AI, VR/AR, and Web3. It's important for job seekers to stay up-to-date with these trends and consider developing skills in these areas.
Job seekers may have needs and wants that are not easily articulated in an interview or on a resume, but which are critical for companies to understand in order to create a positive and productive work environment.
Companies need to have an honest understanding of their own cultural and environmental characteristics in order to effectively align with the needs and wants of job seekers. This can help increase employee satisfaction and longevity.
Upskilling is crucial in today's rapidly evolving job market. Employers should consider providing opportunities for professional development  to help their employees stay competitive and grow in their careers.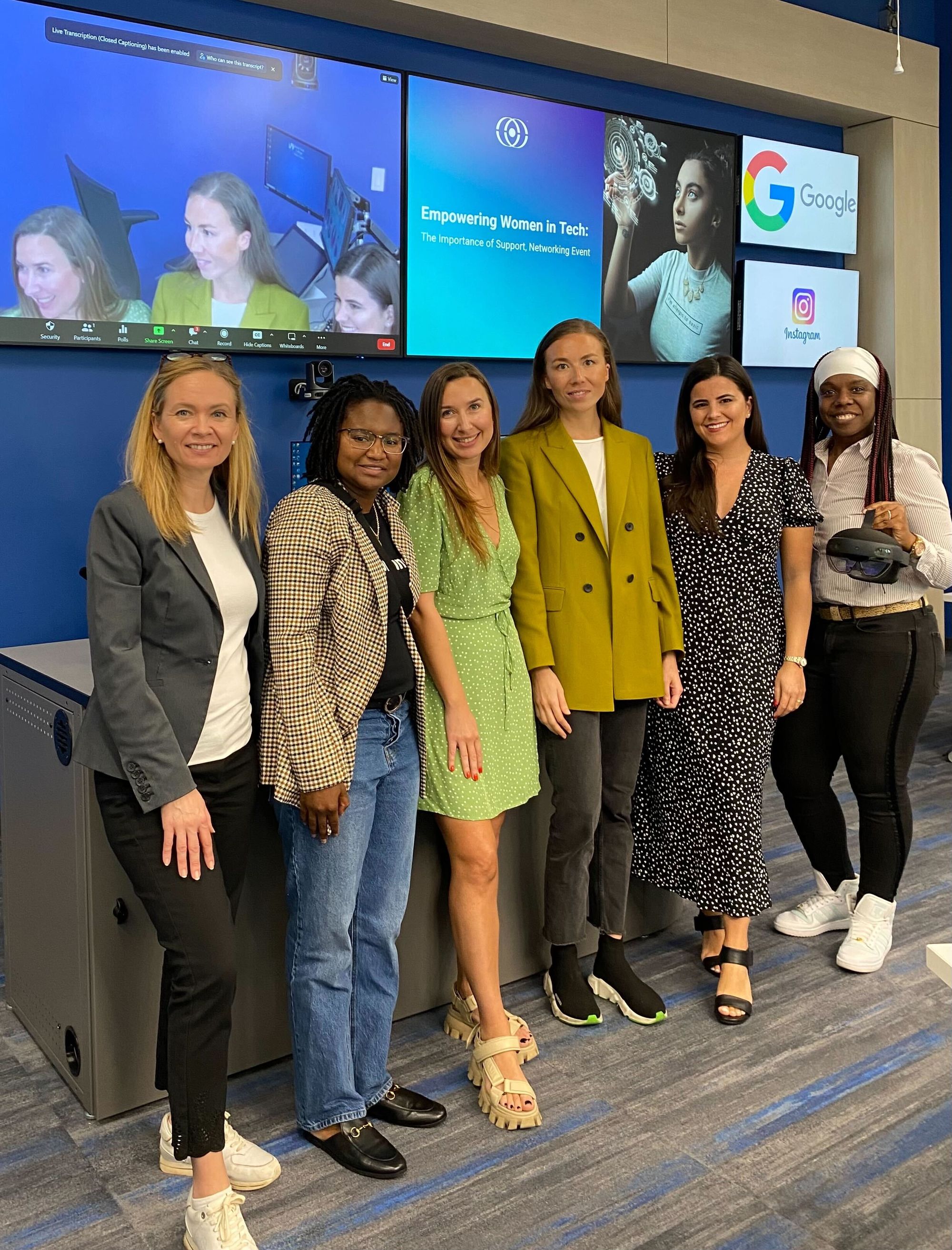 One of the main discussions of the event was the importance of continuous learning and upskilling in the tech industry. As technology continues to evolve at a rapid pace, it is crucial for everyone to keep pace with these changes and continuously learn new skills. Another takeaway was the need for support systems that can empower women pursuing tech degrees and help them achieve their career goals.
The event at the Miami Dade College BIT Center provided a meaningful place for women to share their experiences, knowledge, and insights about the opportunities of the future in emerging technologies, career development, and leadership skills. It also highlighted the importance of partnerships between organizations like Mia and VRARA South Florida in providing a platform for diverse talent to thrive and support each other in the tech industry.
Here are five key takeaways our speakers shared with everyone:
The importance of emerging technologies: Students gained insights into the impact of emerging technologies such as AI, metaverse, and web3, and how these technologies are shaping the future of work.
The value of continuous learning: The event emphasized the importance of continuous learning and upskilling in the tech industry. The speakers shared their experiences and encouraged students to take advantage of the resources and programs available to develop their skills and knowledge.
The power of networking: The event provided a valuable networking opportunity for students to connect with local leaders and professionals in the tech industry. Students learned the value of building relationships and making connections in the industry.
The role of leadership: Leadership was a key topic of discussion, and students gained insights into the importance of leadership skills in the tech industry. The speakers shared their leadership experiences and provided tips and strategies for developing leadership skills.
The new economic opportunities in emerging tech: Students were inspired by the speakers' stories of their journeys and success in the tech industry, and learned about the many new career opportunities that exist in emerging technologies.
Thank you to the hard work of the Mia team, the speakers, and the attendees who came together to learn, share, and grow. It is through events like these that we can inspire and empower the next generation of women leaders in tech, and help close the skills gap that exists in the industry. We are excited to create and support initiatives like this event and work towards building a more diverse, equitable, and inclusive tech industry.
---
About Miami Dade College HERE
About Mia HERE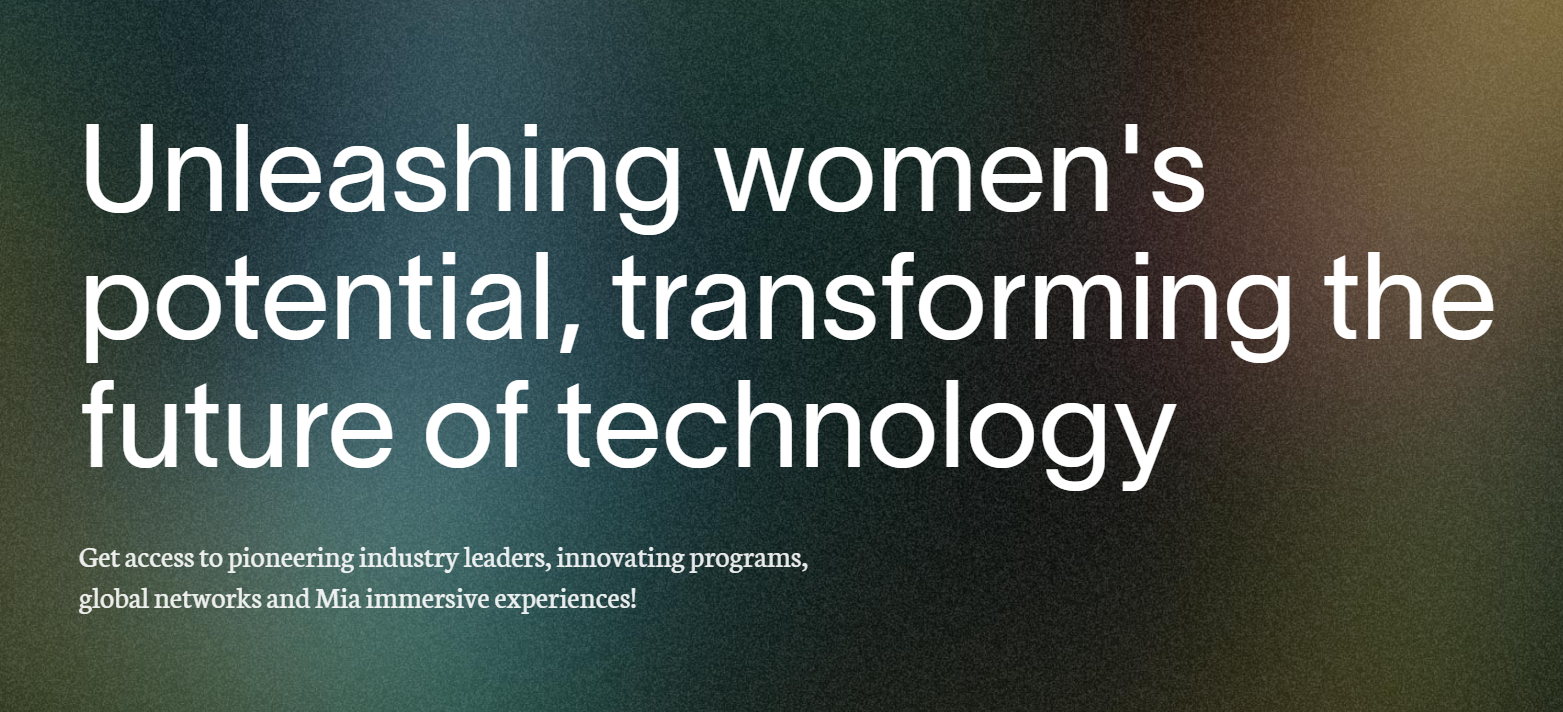 About VRARA South Florida Chapter HERE
More about AI & Innovation at Miami Dade College:

---
Mia is a JobTech company bridging the gap between education and employment. We help women develop skills and build careers in emerging technologies through alternative pathways. Our mission is to unlock new economic opportunities for one million women and accelerate the impact of one billion women by 2030.