Mission Impact is excited to be participating in #Davos during World Economic Forum week this year.  The theme of the annual meeting is "Cooperation in a Fragmented World" reinforcing cooperation between the government and business sectors.
The annual meeting which takes place in a small Swiss town, Davos, brings together leaders from global business, government, civil society, media, and academia to have an agenda designed for global discussions around the most pressing issues of the day—and ultimately drive impact.
---
This is where you can find us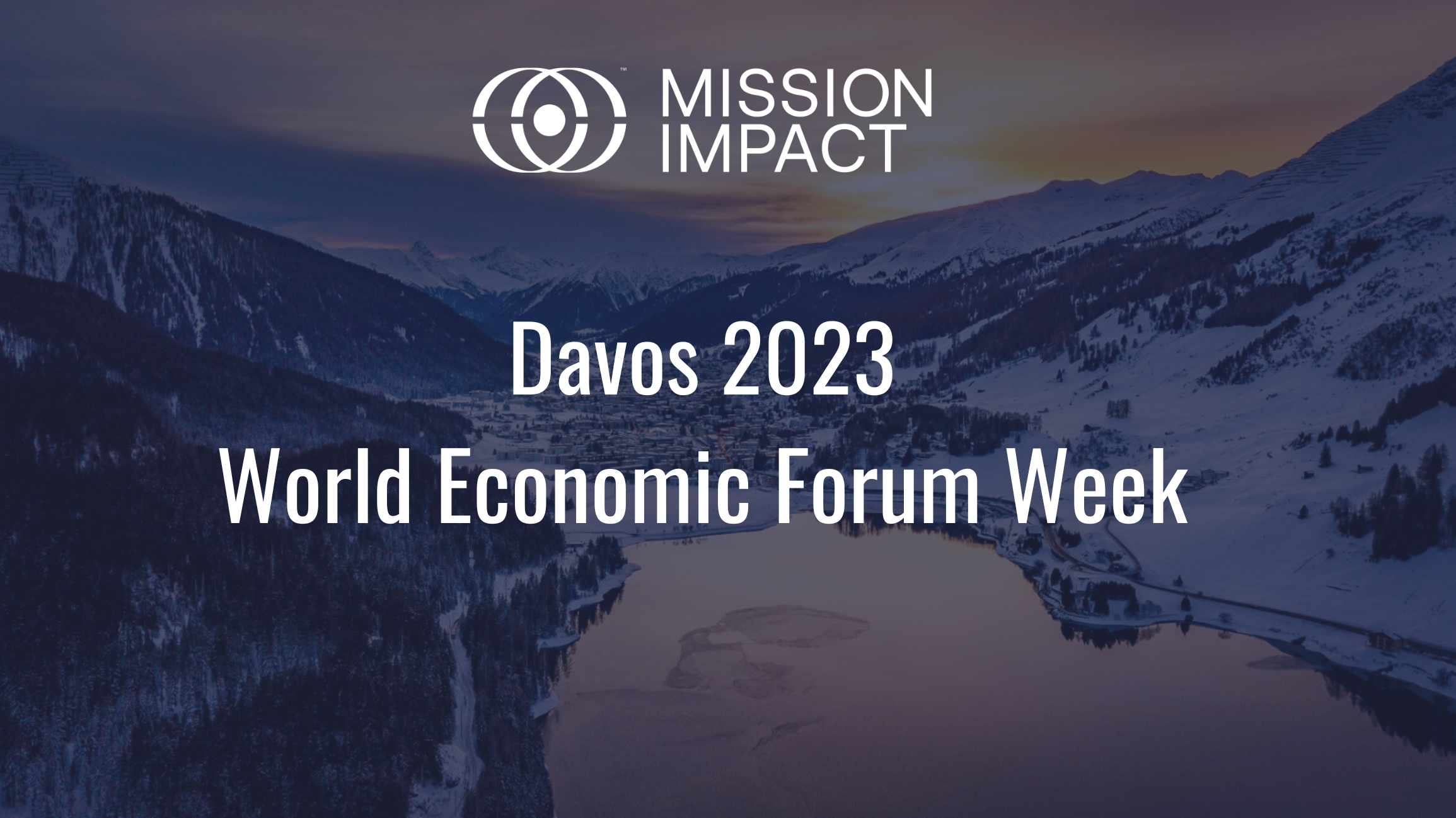 Founders Tarja Stephens and Janna Salokangas are honored to be joining world leaders, and global decision-makers from government, business, and civil society in several panels and discussions about the future of #education, driving #diversity in leadership, and unlocking new economic #opportunities for women in emerging technologies.
World Innovation Economics
World Innovation Economics proactive discussion by women influencers and leaders on the impact of the role of Women entrepreneurs and their influence on the global economy.
Women's Empowerment & SDG Segment
18th of Jan 2023 at the Sunstar hotel in Davos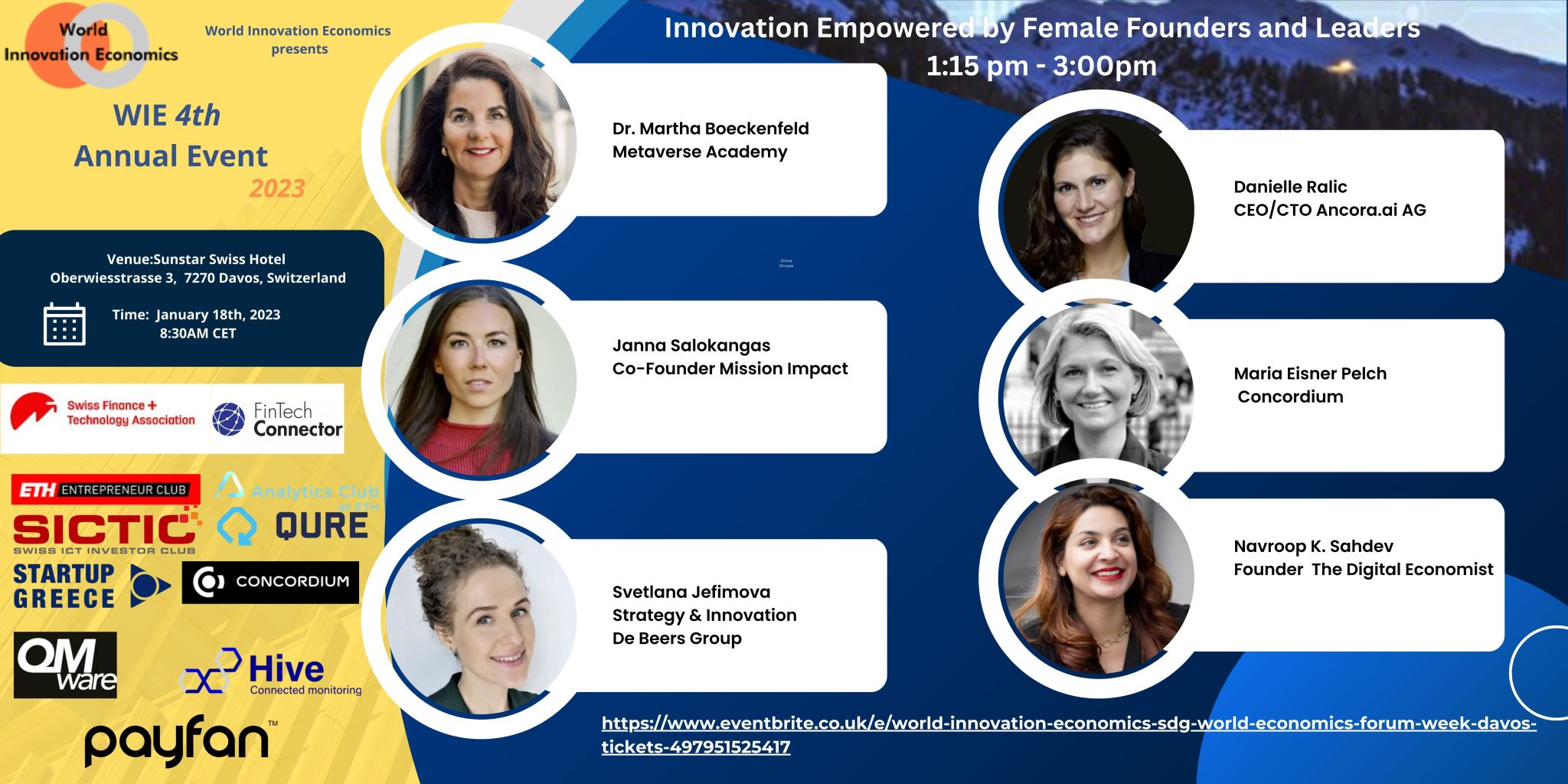 Register for Women's Empowerment & SDG Segment
https://lnkd.in/e4N-P2EC
About World Innovation Economics
World Innovation Economics generates a Real-Data for Entrepreneurs to scale up on thriving markets, Social needs, Global demands and Public reviews. ​We set a direction for solving real-world challenges and establish a new era that delivers purpose-oriented and solution-driven innovations.
---
100 Women @Davos
A community of impact-driven women leaders founded alongside World Economic Forum in 2019 by Dr Anino Emuwa.
"Women's Leadership: Web3 & Metaverse" on Thursday 19th January, 10am-11.30am at the 100 Women@Davos Place
Mission Impact is delighted to be a discussant in this 100 Women@Davos brainstorming session in Davos featuring 15 women leaders on how to make leadership in the industry more inclusive.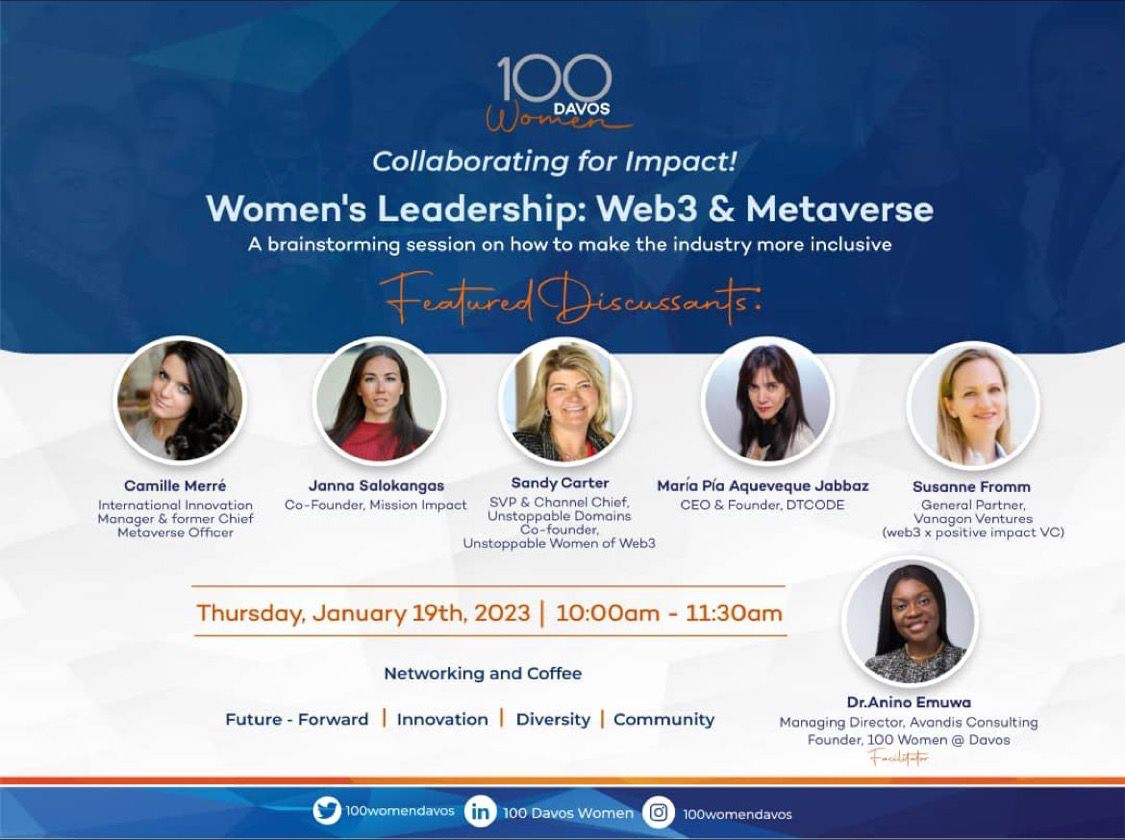 Lead discussants are: Sandy Carter | Susanne Fromm | Janna Salokangas | María Pía Aqueveque Jabbaz | Camille Merré facilitated by 100 Women @Davos Founder Dr. Anino Emuwa
Sign up to participate or partner in 100 Women of Davos programme using this link https://lnkd.in/eN7QEZBf
About 100 Women @Davos
100 Women in Davos is a community of impact-driven women CEOs, leaders, and change-makers originally launched in Davos in January 2019 supporting United Nations Sustainable Development Goal (UNSDG) 5 Target 5.5 to: "ensure women's full and effective participation and equal opportunities for leadership"
Email address:
hello@100womendavos.com
---
Innovation 4.4 FIA WEF Family Office Summit
Innovation 4.4 convenes family offices, governments, and corporate leaders to accelerate the deployment of solutions most needed to create better futures for all. Innovation 4.4 has a track record of producing high-impact family office gatherings at the United Nations Oceans Conference, Necker Island, COP27, etc. Founded by impact thought leader, investor, and entrepreneur Lina Constantinovici, Innovation 4.4 is an official partner to the United Nations Association, the United Nations Framework Convention on Climate Change (UNFCCC) at COP 26, NASA, the World Ocean Council, the Berger Family Trust, and many other global organizations committed to positive impact in the world.
Financial Inclusion Alliance (FIA) has the mission to influence ESG investors to make issues of inclusion facing the next generation a priority through better business, policy, and education innovation. FIA is founded by inventor, financier, and philanthropist Daniel Shakhani.
Mission Impact co-founder Tarja Stephens is honored to present Mission Impact and discuss the future of education as one of the featured speakers.
---
What is Davos?
To learn more about the World Economic Forum (WEF) annual meeting at Davos, McKinsey & Company has published a featured insight article of the meeting.
---
We look forward to connecting with everyone joining Davos next week and building the future together.
See you in Davos!

Let's #BuildTogether🌍