Did you know that, as of now, only 22% of AI professionals globally are women? 🌍
And if we zoom into the tech world, the numbers aren't much brighter, with women holding over 28% of all the jobs in the tech industry. It's like hosting a global tech party and forgetting to invite half the world!
Enter Mia.
We are not just observing these statistics; we are on a mission to change them.
Imagine a world where women aren't just consumers of AI but are actively shaping its future. That's the world Mia envisions.
With a monumental goal to upskill 1 million women worldwide, Mia is setting the stage for a tech revolution led by women, for everyone. Think of it as adding a million more seats to the tech table, ensuring everyone gets an invite to the party.
By championing this cause, Mia aims to bridge the gender gap in tech, ensuring that the future of AI and technology is diverse, inclusive, and representative of all. Because when women thrive in tech, the entire industry benefits.

---
Why we need Diversity in AI: Beyond Representation to Ethical Innovation
The rapid evolution of AI is undeniable, but so is the glaring lack of diversity in its development. A non-diverse AI industry poses significant risks, not just in terms of representation but in the very fabric of the technology itself.
For instance, the World Economic Forum revealed that a staggering 78% of global professionals with AI skills are male, and studies have shown that over 80% of AI professors are men. This skewed representation can lead to AI systems that perpetuate biases, as seen in Amazon's recruiting AI system which showed bias against female applicants due to its male-oriented historical hiring data.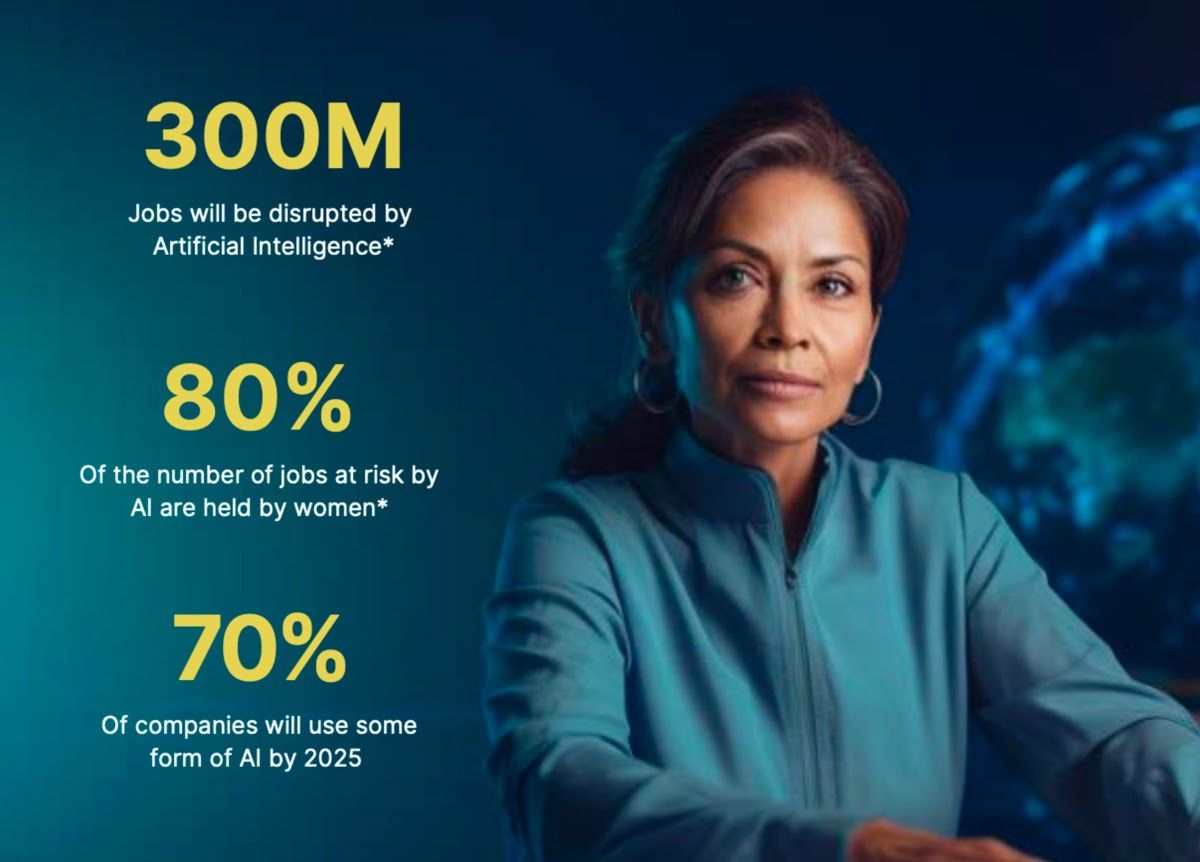 But why is women's perspective so crucial?
Beyond the moral imperative:
Diverse viewpoints in AI enhance explainability and ensure comprehensive data consideration, reducing the risk of overlooking "atypical" data.
A varied AI workforce across races, genders, ethnicities, and ages minimizes AI system discrimination.
Companies emphasizing gender diversity see a 21% increase in above-average profitability [Source].
The need for diversity in AI is not just a matter of representation but a necessity for creating ethical, unbiased, and effective AI systems.
---
Mia's AI Leadership Program: A Game-Changer for Aspiring AI Women Champions
Diving into Mia's AI Leadership Program, we want you to know that this isn't your run-of-the-mill course.
Designed meticulously, the program offers a blend of hands-on projects, mentorship sessions, and real-world challenges that ensure participants aren't just learning – they're applying and innovating.
Designed for women with no technical background, our program brings together the latest in AI to help you navigate this rapidly evolving future.
​
6-weeks | online live sessions | a skills-first approach
Dive deep into foundational AI concepts and their ethical implications.
Explore cutting-edge AI tools through practical activities and case studies.
Develop a personal AI work portfolio, integrating AI into their daily tasks.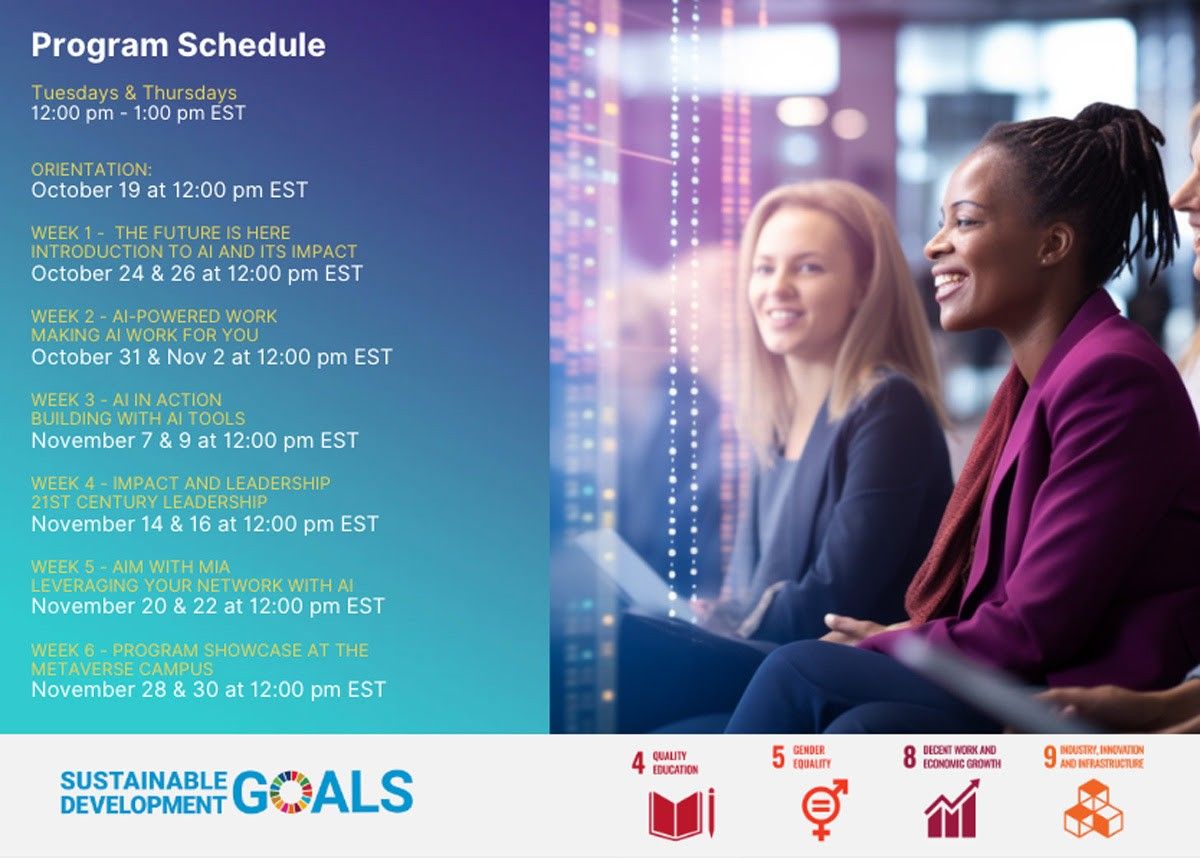 Participants will be part of live sessions, engage with a global AI network spanning over 55 countries, and upon completion, earn a certificate from Mia - Mission Impact Academy.
---
Empower Your Future with Mia's AI Leadership Program
This program is for you if you are a:
Non-technical woman from any sector, eager to understand and harness the power of AI.
Leader or champion of any gender, passionate about addressing women's unique leadership challenges.
Professional responsible for career development and looking to integrate AI into your strategies.
In an era where college grads are underprepared for the world of work, Mia flips the script.
Instead of rote learning, participants immerse themselves in practical scenarios, ensuring they're job-ready from day one.
Think of it as learning to swim by diving into the deep end, but with a safety net. The benefits? Faster career progression, increased job satisfaction, and the confidence to tackle AI's ever-evolving landscape.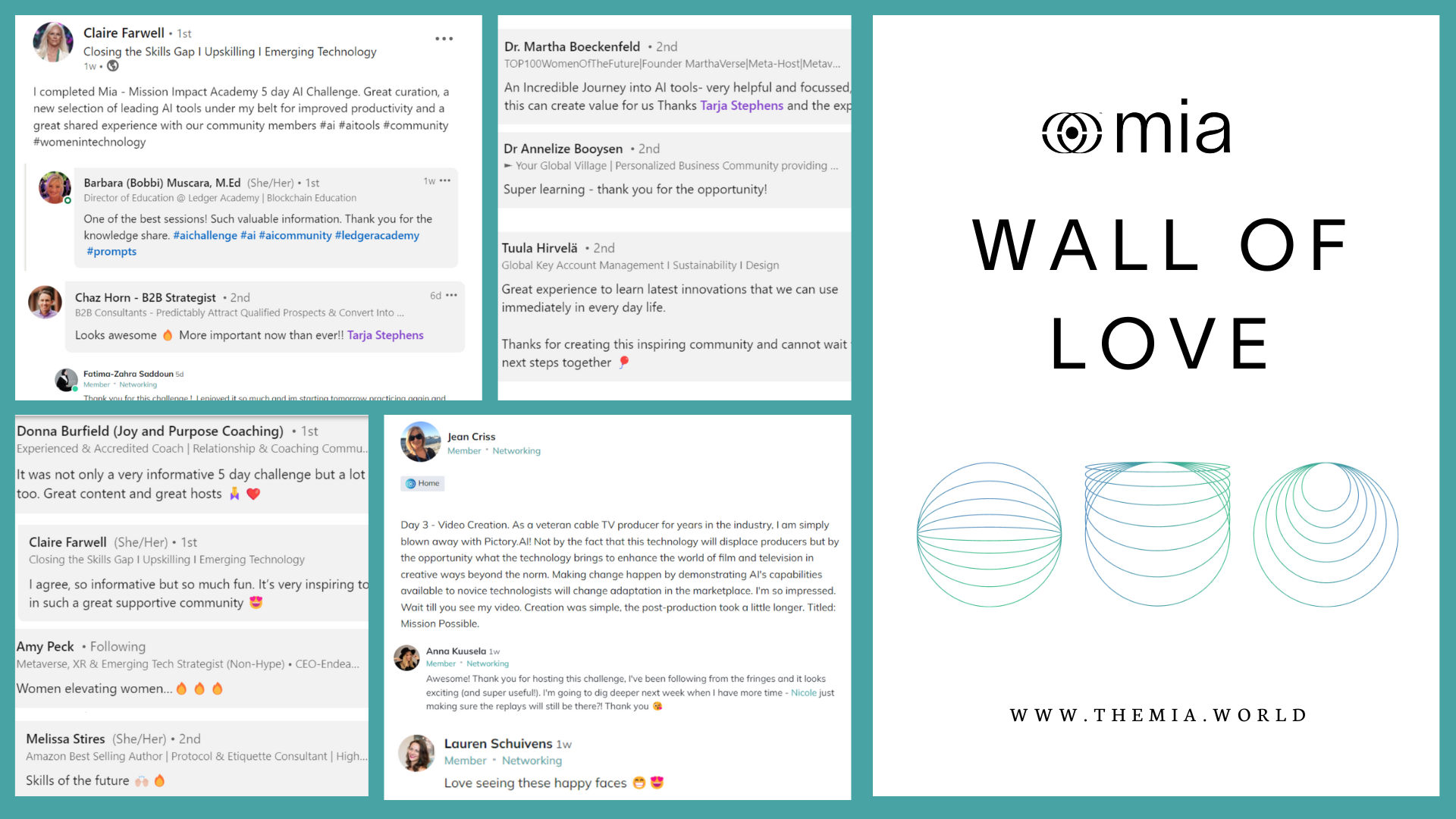 Stories like these aren't rare; they're the norm at Mia. Ready to write yours?
---
Your time is now
Spanning continents and cultures, Mia's AI Leadership Program is truly a global initiative, designed to resonate with voices from every corner of the world.
We are creating a global community of empowered women ready to make a difference.
This is a testament to the belief that when women thrive, societies prosper. And in the realm of AI, women bring unique perspectives, ensuring that technology is developed ethically and equitably.
Our insights, experiences, and expertise are crucial in shaping a future where AI benefits everyone, not just a select few.
So, are you ready to be a changemaker?
Join Mia's mission.
Be part of this global movement, championing women in AI, and together, let's shape a brighter, more inclusive future!
---
Contact Us:
programs@themia.world  |  globalaileadership.ai

---
Mia is a pioneering Global AI school dedicated to empowering forward-thinking companies and non-technical women through education in AI and emerging technologies.
Our aim is to upskill 1 million women worldwide, driving inclusive innovation in the AI space.